Ecommerce Connectors
Avetti Commerce has recently launched a range of eCommerce connectors to help eCommerce stores thrive in today's competitive online world. These new services are all designed to help businesses improve their customer engagement, boost sales, and increase their online visibility. 
With Avetti's new services, eCommerce stores of all sizes and types can access powerful tools and strategies to drive growth and achieve long-term success in the eCommerce industry.
Avetti Shop Connect
This is a revolutionizing eCommerce solution that is exclusively available from Avetti Commerce.
Shop connect will enable you to maximize your sales potential by reaching a wider audience. With Avetti Shop Connect, you can easily add your products to other Shopify stores increasing your sales channels and increasing your sales.
Regarding the process of placing an order, Shop Connect simplifies the entire process of sales, starting from placing the order to fulfilling it. Once your reseller receives an order, it is directed to your system enabling you to promptly and efficiently handle the order and guarantee that it is fulfilled accurately and punctually. This eliminates the necessity of communicating order information via email or phone, which can be prone to errors and consume time, and guarantees that your customers receive their products promptly.
Avetti Supplier Connect
Supplier Connect is a powerful SaaS tool that provides a unique solution for Shopify store owners who want to increase their sales by adding multiple vendors to their platform. This innovative tool enables Shopify merchants to easily and efficiently aggregate suppliers onto their stores and provides them with multi-vendor capability, which means that they can offer a wide range of products to their customers.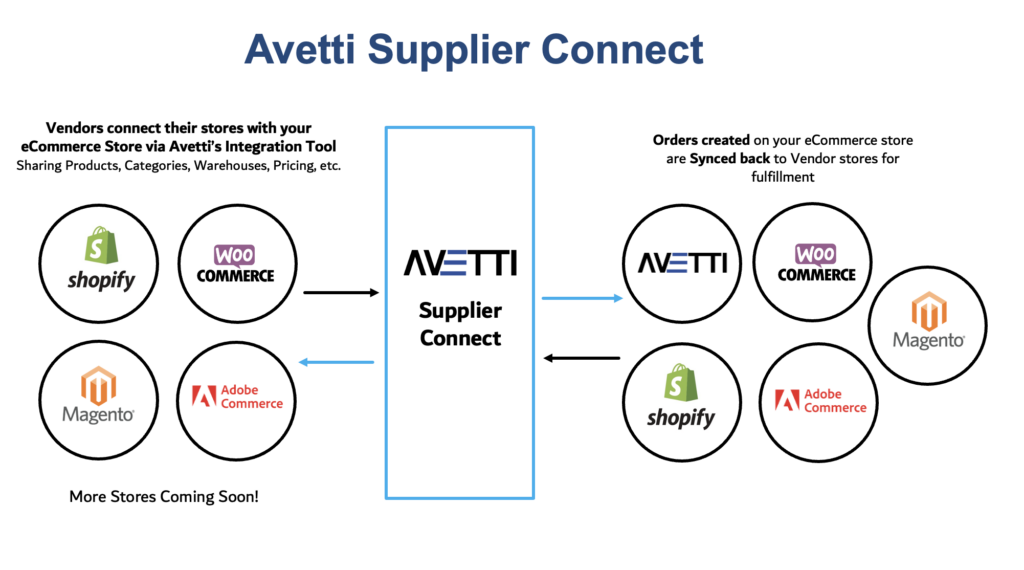 Supplier Connect tool offers a significant advantage by automating the complete process of ordering. By simply clicking a button in your Shopify store, Avetti Supplier Connect sends a notification to the supplier upon receiving an order. Consequently, the supplier can fulfill the order and ship the product straight to the customer, eliminating errors in communicating order details and shipment addresses. This not only saves time but also enhances accuracy, thereby reducing the possibility of errors.
Connect to ChatGPT (AI-powered cross-sells and upsells)
Through Avetti's AI-powered technology, you will unlock new opportunities to enhance your sales strategy. You will be able to overcome missed product opportunities and leverage our automated feature that proposes well-matched complementary items, facilitating seamless cross-selling and upselling to your customers.
Connect to Large Buyers (PunchOut eCommerce) 
Revolutionize the way you do business with PunchOut eCommerce and empower your Large B2B customers with the ability to access your eCommerce store seamlessly through their procurement system, delivering a hassle-free and streamlined purchasing experience.
With PunchOut eCommerce, you can offer personalized pricing, catalogs, and promotions tailored to your customer's procurement system profiles. This level of customization not only improves customer satisfaction but also strengthens customer loyalty.
Eliminate the tiresome manual searches and ordering procedures, and welcome enhanced efficiency, precision, and overall customer contentment. Integrate PunchOut eCommerce into your B2B eCommerce store to unleash its complete potential.